BEAUTY BOOST: RADIANCE AND SHINE
Hair loss, brittle nails, dull skin… Beauty Boost from the Slenderiiz range developed by ARIIX NewAge contains a patented blend of ingredients offering a host of health benefits, especially for those experiencing hair loss, brittle nails or dull skin tone!
NEW BEAUTY BOOST FORMULA
Designed to support your hair, skin and nails, Beauty Boost has been enhanced with even more nutrients, electrolytes and an exclusive herbal blend. In addition, the Dermaval ingredient has been removed and replaced with our own blend for even more benefits.
The net weight of Beauty Boost has been increased from 163g to 308g, an increase of 145g. To match an updated formula, we've given Beauty Boost a sleek new design, with more information on all its benefits in one pouch.
Beauty Boost contains a proprietary blend of ingredients with many health benefits, especially for those who want to supplement their daily vitamin intake. While Beauty Boost is formulated to meet the specific nutritional needs of hair and skin, your internal systems will also benefit from the vitamins, minerals and bioflavonoids found in a variety of natural plant extracts. Whether you want to contribute to your health or are simply looking for an extra boost to your beauty regime, this powerful supplement will leave you feeling renewed and revitalised.
With over 3,000mg of electrolyte blend, Beauty Boost is your ideal hydration companion to the Slenderiiz programme.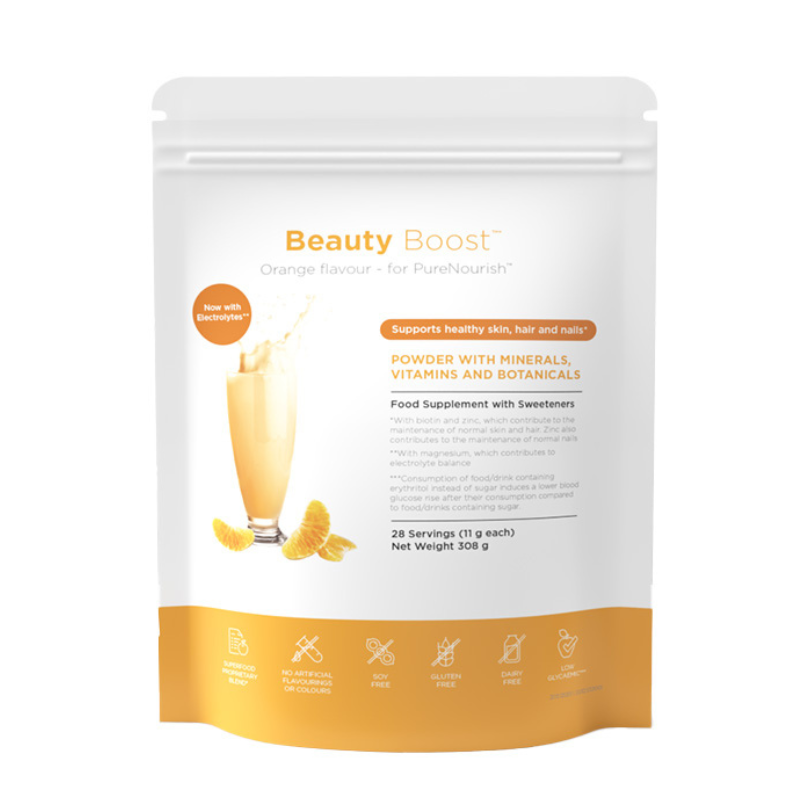 KEY BENEFITS :
Flavoured with mandarin extract and dried papaya.
Added electrolytes to promote hydration
Added biotin to promote healthy skin
Contains Aquamin, a seaweed extract rich in bioavailable minerals
Sweetened with stevia
Low glycemic index
Vegan and gluten free
No artificial flavours or preservatives
HOW TO TAKE BEAUTY BOOST?
For maximum benefit, mix three doses of Beauty Boost with two doses of PureNourish with 250 ml of cold water, or plant milk. Shake vigorously and enjoy. 
Consume once a day.
PRECAUTIONS :
If you are pregnant, breastfeeding or have a medical condition, consult your doctor before using Beauty Boost.
If you are allergic to any of the ingredients, consult your doctor.
Store in a cool, dry place, away from light.
Keep out of reach of children.
WHAT ARE THE MAIN INGREDIENTS?
Papaya Fruit Powder, Red Seaweed (Aquamin), Biotin Proprietary Blend (Rice Ceramides, Indian Gooseberry, Grapeseed Extract, Acerola Extract, Astaxanthin, Blackcurrant, Pomegranate Extract, Citrus Bioflavonoid, Blood Orange, Ginger Root) Electrolyte Blend (Potassium Citrate, Magnesium Citrate, Calcium Citrate, Redmond Real Salt, Vitamin B1, Vitamin B6, Zinc Citrate, Aquamin Soluble)