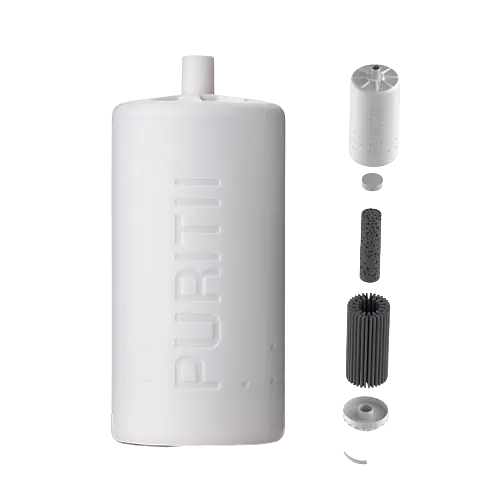 How does the Puritii water filter work?
The two-part filtration system includes a proprietary granular media that contains a blend of finely ground zeolite and coconut charcoal and the proprietary pleated filter that is designed to filter out biological, chemical and emerging contaminants. It does so with incredible flow – as easy as drinking water through a straw.
Functionality:
A two-stage filtration process:

With a magnet-like electrostatic charge that traps contaminants, this exclusive pleat pack has a large surface area in the filter for higher contaminant removal. It contains a proprietary granular blend of zeolite and coconut carbon in the centre of the pleat pack.

Antimicrobial properties make the filter easy to store and maintain.

Excellent flow so it's like drinking water through a straw.

FDA approved plastics for food contact.

Backed by rigorous third-party testing to ensure results.
What does the Puritii water filter remove?
99.9999% removal of bacteria (including E. coli, Klebsiella, Vibrio cholerae and many others) 
Virus removal: 99.99% (including coronavirus, hepatitis A virus (HAV), poliovirus and polyomavirus) 
Protozoa removal: 99.99% (including Cyclospora cayetanensis, Cryptosporidium parvum oocysts, and Giardia lamblia)
Parasite removal: 99.99% (including Ascaris lumbricoides, Schistosoma mansoni, Dracunculus medinensis, and many others) 
Chemical Reduction: Coconut shell activated carbon reduces chemical residues such as: waterborne chemicals, pesticides, VOCs, chemical pollutants, radioactive substances, medical residues and heavy metals
After How long should the water filter be changed?
The recommended usage and time to change the filters is 227 litres, or approximately every 3 months with daily use