Puritii Multi-Effects Air Purifier
From your home to your office, protect your space from every angle with the Puritii® 360 degree Multi-Effects Air Purifier, designed to improve your air quality with the most advanced purification technology.
This elegant yet functional filtration system fights airborne pollutants while removing up to 99.99% of microbes, over 99.99% of ultra-fine airborne particles measuring less than 2.5 microns and 0.1 to 0.03 microns.
It can also significantly reduce harmful pollutants such as emerging contaminants, chemicals, allergens, VOCs and others.
Filters out the bad stuff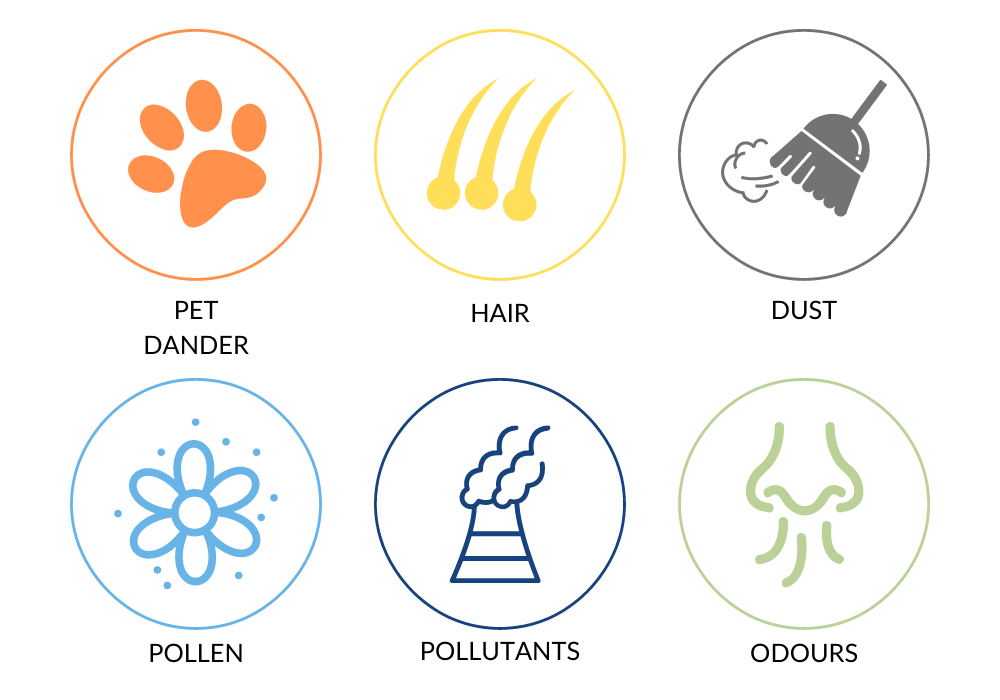 Smart Technology 
The Puritii Multi-Effects Air Purifier is smart enough to monitor air quality in real time and adjust the filtration level. The remote control and touch screen control panel allow you to easily customize your air filtration, including filter cleaning and replacement, on/off settings and speed controls.
Large-Scale Filtration 
This sleek machine packs a ton of power, purifying up to 426.9 cubic feet per minute. One unit can effectively filter the air in a space as large as a tennis court! Using a multi-stage circular filter, consisting of a combination of metal and polymer mesh, activated carbon, H13 HEPA filter and zeolite, the Puritii Multi-Effects Air Purifier provides 360 degrees of fresh, clean air.
Turning negatives into positives
At any given time, there are a number of microscopic pollutants swirling around in the air you breathe, especially when you spend time indoors. Your home, office, gym, classroom or virtually any other indoor space can circulate air that is up to five times more contaminated than the air outside.
That's where the Puritii Multi-Effects Air Purifier comes in, using innovative technology to draw out pollutants and release only clean, purified air.
When you choose the Puritii Multi-Effects Air Purifier, you can be sure to improve the quality of your daily air by removing indoor pollutants such as pollen, mould, dust mites, volatile organic compounds and other chemicals that can contribute to many health problems. There is even a "negative ion" mode that releases millions of beneficial molecules into the air: 2.36×107 ions/cm3 to be exact. Don't let the name fool you: negative ions actually have a positive impact on the air you breathe!
What does the Puritii Multi-Effects Air Purifier remove from the air?
The Multi-Effects Air Purifier removes all three categories of pollutants with up to 99.99% efficiency, including :
Ultrafine particles smaller than 0.1 microns, including cigarette smoke, pollen, dust and dust mite residues and pet dander.

Volatile organic compounds (VOCs) from smoke, odours, exhaust, fumes and chemicals.

Airborne bacteria, moulds, fungi and viruses.