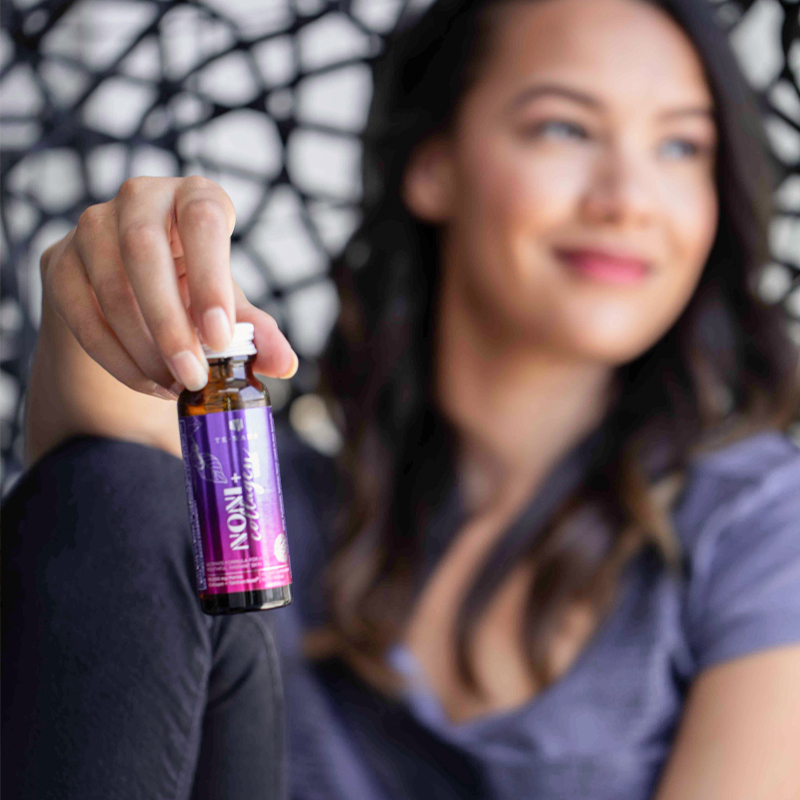 TeMana Noni + Collagen to boost collagen production
Collagen is one of the main building blocks of the skin, but the body's natural production of collagen decreases significantly with age.
This is when you start to notice the appearance of fine lines, wrinkles and much less elastic skin. TeMana Noni + Collagen combines 10,000mg of hydrolysed marine collagen of sustainable origin with 100% Tahitian Noni.
TeMana Noni + Collagen will help your body boost its collagen production and thus promote visibly firmer, younger looking skin with fewer wrinkles and better skin elasticity.
The main benefits :
Firms the skin
Increases elasticity
Reduces the appearance of fine lines and wrinkles
Reveals healthier, more hydrated skin
Promotes younger looking skin
Strengthens hair and nails
What makes TeMana Noni + Collagen so extraordinary?
10,000 mg of hydrolyzed marine collagen
Pure Noni from the paradise island of Tahiti
All natural ingredients from sustainable sources
Advice for use :
Drink one bottle a day.
Main ingredients of TeMana Noni + Collagen :
Purified Water, Collagen (Fish), Morinda Citrifolia (Noni) Fruit Juice, Apple Juice, Erythritol, Citric Acid, Zinc Gluconate, Vitamin C (Ascorbic Acid), Maltodextrin, Steviol Glycoside, Natural Flavors, Blueberry Juice Powder, Cynara Scolymus (Artichoke) Leaf Extract, Citrus Sinensis (Red Orange) Fruit Extract, Olive Fruit Extract
Contient : Poisson (Tilapia, Vivaneau Rouge), peut contenir d'autres espèces de poisson.