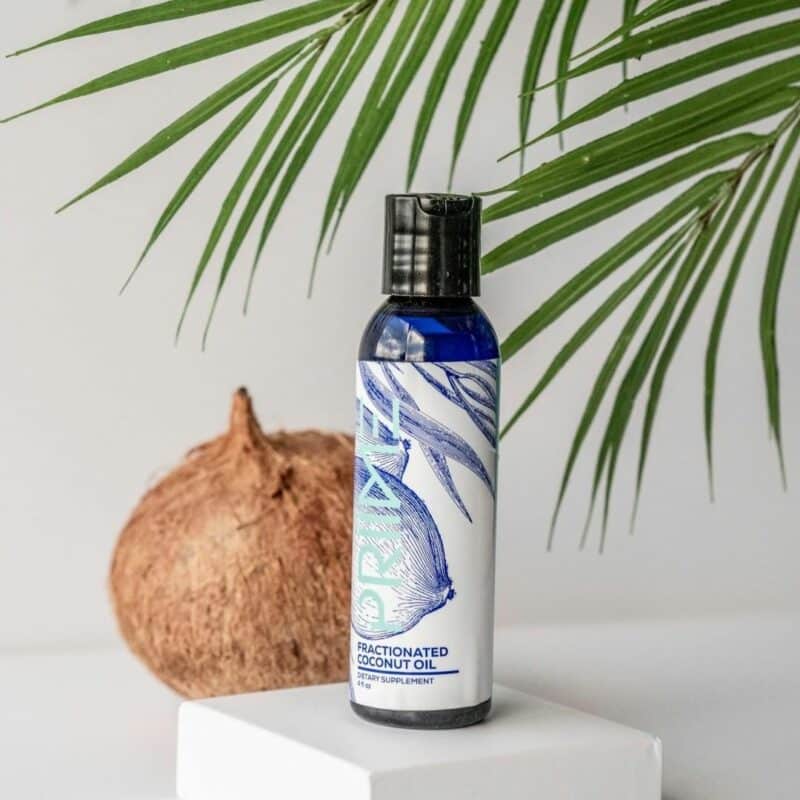 Fractionated Coconut Oil : the ideal companion
Healthy and natural, Fractionated Coconut Oil from PRIIME is moisturizing. Easily absorbed by the skin, hair and digestive system. This makes it an ideal massage oil, carrier oil and dietary ally.
Coconut oil is recommended for people with eczema, acne or psoriasis. It will effectively soothe itching and moisturise dry skin.
Suitable for both adults and children. Coconut oil is used both as a natural cosmetic and as a food aid.
When used in food, fractionated coconut oil will strengthen your immune system and curb your appetite.
The ideal companion to Priime essential oil blends :
Get even more massage benefits by adding essential oils from the PRIIME range for total synergy.
Information on Coconut Oil :
Made from natural ingredients without additives and in an artisanal way, Fractionated Coconut Oil is a true multi-functional ally.
How to take Fractionated Coconut Oil?
Carrier Oil :  For sensitive skin, including children, mix one drop of your favourite Priime essential oil blend with five drops of Priime fractionated coconut oil or as directed by the essential oil, before applying to the skin.
Dietary use: Priime Fractionated Coconut Oil is a superior source of medium chain fatty acids that promotes healthy cholesterol and boosts metabolism. If your diet is a plateau, try one or two tablespoons a day in a smoothie or salad dressing as part of a low-calorie diet.
Massage oil :  Mix a few drops of your favourite Priime essential oil blend with a quarter amount of Priime fractionated coconut oil in the palm of your hand. Mix and warm gently by rubbing between your hands before applying a light, moisturising massage oil. "
Diffusion :  Dilute some of the Priime essential oil blend with up to a quarter teaspoon of Priime Fractionated Coconut Oil before using in a diffuser for a softer scent. Priime essential oil blends can also be used undiluted for more intense aromatherapy.
Moisturising cream :  Apply a few drops between the palms of your hand and smooth directly onto dry skin and hair. Work gently for immediate results. Excellent for psoriasis, eczema and other dry skin conditions. Can be mixed with Priime essential oil blends to customize fragrance and therapy.